4.1: Train of Thought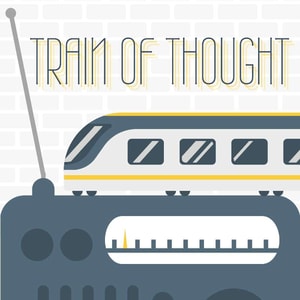 Let me interrupt your train of thought. There is a man walking down the platform at a train station. He is not on the train. The bag he was carrying is on the train. It has gone on without him - vulnerable, alone, and not empty.
Content Warnings include mild swears, brief mention of alcohol and looming tension.
Transcript Link. Made by Round 4, Group 1: No Resolution.
This episode was written by Anna Stein and edited by Grace Keller Scotch. It was directed by Sivan Raz, with dialogue editing by Rebecca Liu and sound design by Savannah Webb. Music was made by Rocky Goldman. The transcript was done by JJ Jensen. The Radio was played by Rocky Goldman. The Man At The Station and Henry(?) were played by JJ Jensen. The Woman At The Station, Eileen and The Second Stranger were played by Sivan Raz. The Automated Voice, Bartender, and Cabbie were played by Grace Keller Scotch. The First Stranger was played by Bridget Guziewicz, and the Rider was played by Anna Stein.
Additional music used from www.fesliyanstudios.com (Fallen Petals by Dave Renda).