3.3: The Real Treasure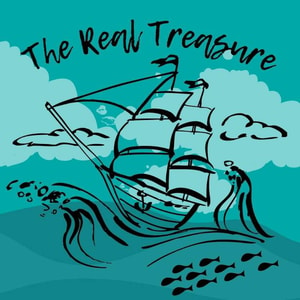 While searching for a legendary treasure, a pirate crew has some unexpected guests.
Content warnings for this episode are: Strong Language; Discussions of Kidnapping
Transcript Link. Made by Round 3, Group 3: The Ne'er Do Wells.
This episode was written by Molly Alexander and edited by Grace Keller Scotch. It was directed by Nathan Comstock, with dialogue editing by Brad Colbroock and sound design by Martin Dearden. Music was made by Martin Dearden. Captain Remus was played by Emmett Moon. Quartermaster Peregrine was played by Martin Dearden. Boatswain Sykes was played by Grace Keller Scotch. Navigator Kittie was played by Nathan Comstock. Merfolk Nori was played by Molly Alexander. Merfolk Kombu was played by Brad Colbroock.