4.3: (Don't) Escape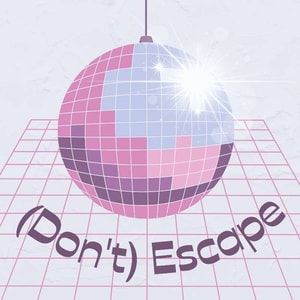 A devilish duo decide to toy with a team of strangers, forcing them to compete in a series of increasingly dangerous games. There's money to be won, stores to be explored, and blood to be spilled, all within the walls of the dying Hue Breeze Mall. Just be careful not to fly to close to the disco ball...
Content Warnings include animatronics, violence, strong language, screams, loud noises, blood and death.
Transcript Link. Made by Round 4, Group 3: Team Illiterate
This episode was written by David Orion Pena and Mik Koats and edited by CVVM. It was directed by Eli Esdi, with dialogue editing by Kirsty Robson and sound design by Rebecca Liu. Music was made by Meg Hunter. The transcript was done by Resa. Mavid was played by David Orion Pena, Dick was played by Mik Koats, Hazel Aspen was played by Meg Hunter, Vinny Monts was played by Emmett Moon, Zinnia Albright was played by Resa, Fuschia Ulrich was played by Ari Delyne, Jonathon Madigan was played by Eli Esdi, Kylar Logan was played by C.V.V.M, and the Dance Machine was played by Kirsty Robson.