3.6: Vibestown and the End of the World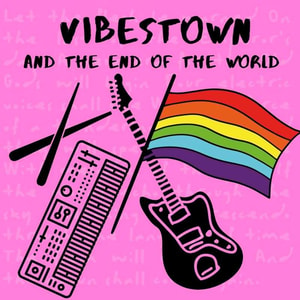 A queer electropop band on the rise suddenly blows up when a prophecy reveals that they are the chosen ones. Now, they have one day to craft a song that will save the world.
Content warnings for this episode are: Depictions of anxiety, mentions of the apocalypse
Transcript Link. Made by Round 3, Group 6: Legend-I-Can't-Believe-It's-Not-Butter
This episode was written by David Orión Pena and edited by Anna Stein. It was directed by Harper Goldman, with dialogue editing by Jason Gemenetzis and sound design by Daniel Young. Music was made by Harper Goldman. Thrasos was voiced by Jason Gemenetzis. Bennie was voiced by Caroline Mincks. Gene was voiced by Daniel Young. Levi was voiced by Harper Goldman. Quill was voiced by Anna Stein.